CEL-FI QUATRA EVO Dual-Network Signal Boosters for Enterprise & Large Areas
THIS PRODUCT CANNOT BE PURCHASED ONLINE AND REQUIRES A SITE INSPECTION & PRODUCT TRAINING TO COMMISSION. PLEASE CONTACT US FOR A QUOTE.
CEL-FI QUATRA EVO is a distributed antenna system (DAS) hybrid solution that combines the strength of passive and active DAS technologies to deliver high-quality mobile signal in buildings of up to 200,000 ft
2
 / 19,000 m
2
 in size. CEL-FI QUATRA EVO delivers a mobile signal that is up to 1000x stronger than analogue, utilising CAT 5e cabling for RF and power over ethernet, with no signal attenuation right to the perimeter of the building.
With different configuration options, quick to install timelines and simplicity in IT maintenance, it has put enterprise-class mobile signal boosting within reach of many businesses at a price that is aligned with their budget.
How Does it Work?
The CEL-FI QUATRA EVO solution consists of a donor antenna which can be fitted to the Network Unit internally or installed outdoors if no indoor signal is available, a Network Unit (NU) which amplifies and digitises the mobile signal from as little as 1 bar to up to 5 bars and a network of Coverage Units (CU's) which are placed around the building to rebroadcast the boosted signal.
Cat5e/6 structured cabling runs between NU's and CU's and prevents the loss of signal at the CU's. By leveraging power over Ethernet (PoE), CU's can be installed anywhere in the building as they do not need to be near a power outlet. The system connects wirelessly with all phones that operate with 3G / 4G / 5G signal – there is no need for an internet connection or to pair your device with the CEL-FI unit.
What is Included?
CEL-FI QUATRA EVO is a scalable solution that utilises one or multiple Network Units, depending on the environment and size of the space, with up to six distributed Coverage Units connected to each Network Unit.
Network Unit
The Network Unit (NU) is the hub of the system. The scalable design works with one to six Coverage Units to provide up to 125,000 ft2 (11,600 m2) of coverage, per Network Unit.
Provides donor signal to the CEL-FI QUATRA EVO system
Provides power to Coverage Units (up to six)
Connects via ethernet or LTE Modem to the CEL-FI WAVE Platform for remote monitoring and management
Coverage Unit
The Coverage Unit (CU) is the remote unit of the system that rebroadcasts the donor signal. The cost efficient and easy-to-deploy system leverages Power-Over-Ethernet (POE) for up to six CUs from each NU.
Provides coverage in the CEL-FI QUATRA system (up to six per NU)
Power delivered by Power-Over-Ethernet from the NU
Self-configuring and self-optimizing
CEL-FI QUATRA EVO CU is only compatible with CEL-FI QUATRA EVO NU
Key Features
Requires site inspection and installation
Up to two networks can be boosted by a single Network Unit
100dB of signal gain up to 125,000 ft2 / 11,600 m2 per system
Scalable up to 200,000 ft2 / 19,000 m2 by combining multiple systems
Carrier approved, boosts 3G and 4G simultaneously
All digital, RF and Power over Ethernet (PoE) system with cat5/6 structured cabling
UK licence exempt, supports O2, EE, Three, Vodafone and all Mobile Virtual Network Operators
Smart Signal Booster with IntelliBoost© Chipset - Unconditionally Network Safe
Remote monitoring and management with the CEL-FI WAVE app
Can be used without a licence, lawful under Ofcom (UK) and Comreg (Ireland) regulations
Installation
CEL-FI QUATRA EVO requires the services of a professional installer.
Off Air Mode
- CEL-FI QUATRA EVO can be installed off-air, using directional donor antennas to provide high-quality inbuilding wireless connectivity. CEL-FI QUATRA EVO can be deployed by installers or IT personnel with Cat5e skills or who have received CEL-FI specialist training (no RF engineering skills needed).
Supercell Mode
- A Supercell is comprised of a CEL-FI QUATRA EVO system connected to a small cell. Multiple CEL-FI QUATRA EVO systems can be connected to a single small cell, or multiple small cells, to form a coordinated Supercell. A Supercell with CEL-FI QUATRA EVO is more efficient than multiple small cells, and the CUs of a CEL-FI QUATRA EVO system connected to a Supercell do not interfere with one another.
Technical Specifications
Supports multiple channels with bandwidths of 5/10/15/20 MHz per channel
Peaceful coexistence with adjacent Wi-Fi (2.4 GHz & 5 GHz), femtocells, and cellular devices
Automatic Gain Control (AGC) based on fast real-time echo-cancellation
Dynamic gain control always ensures maximum gain — best coverage — in ever changing RF environments, without user intervention
Enterprise-class, carrier-grade, small footprint active DAS
Dimensions

Network Unit: 46.1 x 8.9 x 28.1 cm
Coverage Unit: 29.5 x 6.4 x 30.7 cm
CEL-FI Commitment
The CEL-FI commitment is to protect the operator's network, deliver the best in-building mobile performance, and be the easiest solution to install.
CEL-FI products are licence-exempt and fully comply with Ofcom's UK Interface requirement 2102 (IR2102.1 May 2022) (UK) and ComReg S.I.No.283 of 2018 (Ireland).
Network Safe
High speed Automatic Gain Control ensures that CEL-FI QUATRA EVO are unconditionally network safe and enables more simultaneous calls and higher data speeds.
CEL-FI WAVE Portal
Commission, Optimize, and Manage CEL-FI products with the CEL-FI WAVE PORTAL
It provides a glance-able view to the state of your CEL-FI environment and includes:
A dashboard overview of all your systems
Real-time data and performance metrics
Operator changeover if you switch your network
Software update management
Users and group management
Compatiblity
O2, EE, Three, Vodafone & all Mobile Virtual Network Operators.
For customers in Hebrides, Scottish Isles, Highlands and other remote areas in the UK: Due to Ofcom licence exemption rules, it is not permitted to relay 4G only signal. Please check on your service provider's coverage map, entering your postcode, to make sure you have Outdoor 3G Coverage in your area before purchasing. The current checker websites are:
EE
,
O2
,
Three
,
Vodafone
.
Downloads
CEL-FI QUATRA EVO Brochure
CEL-FI QUATRA EVO Data Sheet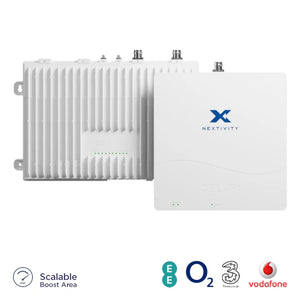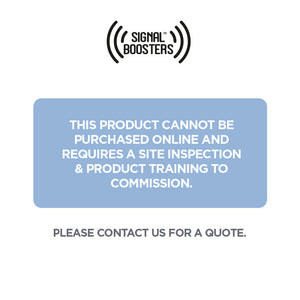 Recommended
You might want to take a closer look.