CEL-FI Wideband Panel Antenna for Cel-Fi GO G41 and Cel-Fi Solo
DETAILS
The Cel-Fi Wideband Panel Antenna is an indoor / outdoor mobile wideband directional antenna with 6dB gain in the low bands and 10 dB gain in the high bands. The weather resistant housing is built with UV stabilized ABS plastic. Optimised for Cel-Fi products, the Cel-Fi Wideband Panel Antenna can be used with the Cel-Fi WAVE Antenna positioning app. The unit includes standard brackets for wall mounting, or can be used with any Cel-Fi Mount.
Boosts mobile signal up to 9dBi
700-2700 MHz Frequency
Vertical polarisation
Uni-directional
The Wideband Panel Antenna is one of the Antenna options for Cel-Fi GO G41, but it can also be used with Cel-Fi Solo if deemed necessary.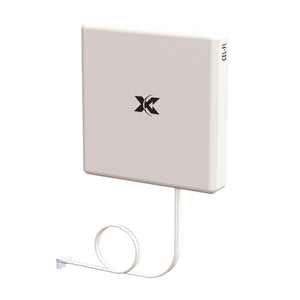 Recommended
You might want to take a closer look.