About Storey
Storey provides personalised working environments for businesses in great locations. Clients have great flexibility around the size of their office, tenancy duration and aesthetics of the space. Storey pride themselves on operating and managing high-quality office spaces with all the services businesses require.
Business Needs
6 Orsman Road is a newly constructed office building comprising 41,322 ft² over ground and 5 upper floors. Owned and managed by Storey, it is located on the banks of the Regent's Canal in the heart of Haggerston.

This architecturally designed building combines CLT and steel to provide the ultimate in flexible office space. The structure is bolted together and applied elements such as SIP panels, cladding, timber decking, steel balustrades can all be detached and reused. Each floor enjoys full height floor to ceiling glazing, providing excellent natural daylight and is fitted out to a high-level specification.

A building of this calibre should also have state-of-the-art services and amenities, including good connectivity throughout. However, during the fit-out of the new office, it became apparent that mobile coverage in parts of the building was poor and had to be resolved.
The Solution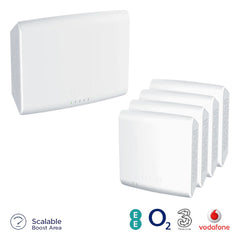 When previously faced with poor in-building mobile connectivity, Storey turned to DAS systems but found it to be expensive, timeous to install and complex to manage. They were searching for an alternative, more cost-effective in-building mobile coverage solution which could support all networks.

Storey consulted Frequency Telecom to discuss the various options and requested that they perform a site inspection to examine the internal and external factors that would affect a Cel-Fi mobile signal solution. The survey revealed that despite the central location of the building, the modern and sustainable building materials used during construction prevented mobile signal to penetrate the lower parts of the building. It also confirmed that there was sufficient external signal that a working solution could be deployed.

Cel-Fi Quatra 1000 was selected. The Cel-Fi Quatra can be connected to the corporate LAN which would enable Storey's IT team to access and manage the solution remotely.
The Results
The solution was installed by one of our certified resellers and overseen by the main onsite contractor.

Since deployment, mobile coverage in the building has vastly improved across all networks in areas where the signal was previously poor.
Download The Case Study